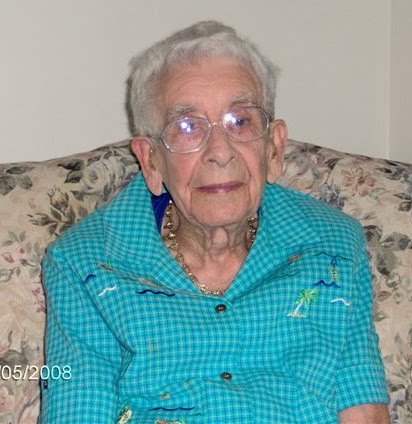 June, 2008
Margaret was interviewed by June and Ben Bachmann.
Margaret Roberts was born in 1910, and began teaching at age 20. Meeting her on the street, you would probably not believe the tall, slim, put together lady will celebrate her 98th birthday in October, 2008. Margaret has a remarkable memory and remembers many details of her teaching years.
After completing her teacher training at the Camrose Normal School, the first school that Margaret taught in was the Union one-room country school, SE of Vermilion, About 20 students attended the school. She boarded with a local farm family, the Galloways, and walked across the field with their daughter, Dorothy. Margaret's dad picked her up by car, and drove her home for weekends. Later, she stayed with the Rankins, and taught their daughter, Eunice. (Eunice, later Teasdale, also became a teacher with a long career in the area, and was a CERTA member at her death.)
Margaret's second school was Watson, near the Tolland Store. About 30 pupils attended registering in grades one to nine. While there, she boarded with Mrs. Dickson. After about 2 years there, she married Garfield Roberts, and they lived on a farm near Borradaile.
Margaret also taught at Kokanee School, near Tolland, for several years, riding horseback from the farm near Borradaile. Margaret recalls one harrowing experience…once after Easter, there had been a spring snow storm. The horse Margaret was riding, was almost bouncing up and down over the drifts, so Margaret decided to get off before she was bucked off. But she didn't hang onto the reins, and the horse took off without her, headed for the school. When Margaret arrived, after walking about a mile, she found the horse calmly resting in the school barn!
It was at this time that Margaret received a letter from the local school board, explaining that her services would be no longer be required! According to policy, a lady teacher could not be married! When the School Inspector, Mr. Parker, came by, Margaret showed him the letter. He told her to just keep on teaching and to ignore the letter so she did.
Margaret also remembers that another rule for a lady teacher was that if she went out for an evening, she must be returned home by 10 pm.
One of the challenges for a beginning teacher in a one-room school with many grades was to keep everyone occupied while the teacher was busy with another grade. Margaret said it was hard to have something for grade ones, who could not read yet. She did have plasticine for them. One time for a different activity on a nice day, Margaret asked if the younger ones, the Blake brothers, would like to go outside, and carry in some wood for the stove. They were eager to do that. However, the next morning, a note came from the parents, saying, "I do not send my children to school to carry wood."
Another story was about Bob and Earl Cox, in grades one or two. Margaret always went outside with the children at recess. One time she caught Bob and Earl throwing stones at the shed, so she told them they would have to stay after school. She dismissed the other students, but kept the boys in their desks. She turned around, and Earl ran out the door. Margaret dashed out after him, catching him just before he ducked under the fence to join the other children. She led him back into the school, and had him sit down. He didn't have to stay long, just long enough to reinforce that she was the authority. Then she said, "You're dismissed."
There are many things a beginning teacher has to learn, Margaret said, "I should have kept the boys in at noon instead." Then she added another learning experience. On Arbour Day, the students brought rakes to help to clean and tidy the yard, and sometimes plant trees. One year, as a reward, she took the children up the hill, and made a bonfire. She had brought some large cans of beans to heat for lunch. But she did not realize she should have punched holes in the tops of the cans before heating them. There were explosions as the cans heated up and blew up! Margaret was so thankful that no one was injured.
As for discipline, Margaret admitted she strapped only one child. She said as a general rule when she taught the students respected their parents and their teachers.
The curriculum was arranged by the School Inspector. There were very few books for the teacher or students. Margaret added knitting to the curriculum, as she felt it was a useful life skill to teach.
The janitorial duties were usually arranged for by the local school board, with someone who lived nearby, lighting the fire in the large stove, carrying in wood and water, sweeping the wood floors. But the teacher "did lots of work" like washing the desks.
Garf and Margaret moved north of Dewberry, buying Mr. Wheeler's farm, across the road from Bill and Myrtle McMullen. That was in the "thirties", and "there was no money!" The McMullens remained lifelong friends.
She didn't teach for a year, but then in 1940 she taught at Greenlawn School, where there were "quite a few students". Again, she rode horseback to the school.
She taught there until 1942. From 1942 -1945 she taught at North Home which was a few miles farther for her and her faithful horse.
The year 1945 found them moving back home. They built a nice house on the Roberts farm near Koknee. Margaret continued to teach at Koknee until 1953. At that time the school closed and the few remaining students were bussed to the new Woodvale Consolidated School. Margaret also transferred to Woodvale. For the first time in her career, she was teaching in a multi-roomed school, two rooms at first and then three rooms. The changing times also brought retirement to her horse. Sometimes she rode the schoolbus and sometimes Garf drove her to School. During her last few years there, they lived in the teacherage and she had a short walk to school.
She taught at Woodvale until 1965. During most of these dozen years she was principal. In the mid 1960s when there was some talk that Woodvale might close, she decided to transfer to Vermilion. She taught grades seven and eight at J.R. Robson until 1972 when she retired.
When preparing for a Woodvale reunion a few years ago, former students were asked to write some of their memories. Almost everyone remembered Mrs. Roberts ringing the bell. She did that with great enthusiasm. Her classes were always as neat and orderly as herself, and it was a pleasure to attend events at her school.
Margaret and Garf moved to Vermilion when she began teaching at JR. They enjoyed her lovely house just a short walk from the school. Garf passed away in the early 1980s. Margaret began her car driving career during these years, and enjoyed the independence of being able to drive her own car.
Margaret has enjoyed her retirement traveling, working in her yard and keeping up with friends and former students. In early 2008, she moved to the Vermilion Valley Lodge.
She is the only living charter member of the Central East Retired Teachers' Association.
Memories of Mrs. Roberts As a Teacher
I remember that Mrs. Roberts opened up a magical world of books for me when I started grade 1 at Woodvale School, which was a three room rural school. I t did not take me long to get my work done and soon I was turned loose on the room library. Mrs. Roberts had this wonderful expressive voice and she used to read to the grade ones by the piano and captivate our entire interest. I can still remember my amazement when she showed us a book with African animals, which we had never seen before as we did not have TV in those days.
Mrs. Roberts used a "hands on" approach when we did a unit on Norway in grade 3. We ate porridge, climbed on desks with a rope hooking around 10 children together to represent hiking in the mountains.
Her dedication to making costumes and practicing us for the annual Christmas concert was unsurpassed. Being Little Red Riding Hood was one of the highlights of my childhood memories. Mrs. Margaret Roberts was a true pioneer teacher and definitely a model for my own teaching career.
Jean Watt