November 29, 2020
Busy Zooming to the Next Meeting
Oh how times have changed in the past number of months. Gatherings, socializing, entertainment and meetings have taken on a whole new format.
For ARTA and NWARTA this "new way" has required innovation and vision, primarily with the use of Zoom.
In order to keep one another safe, ARTA held its Annual General Meeting during the mornings of  October 6 and 7, 2020 via Zoom.  With the ARTA staff and representatives from the 18 branches, there were over 80 attendees for these meetings.
Karen Patton, Russ Snoble and Joan Godbout were NWARTA's representatives.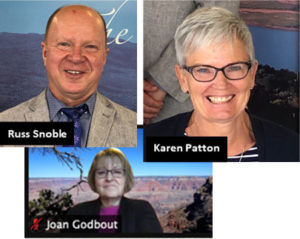 While Zoom meetings allow for large virtual gatherings, gone were the opportunities for personal connections with members from the other branches and the ARTA staff. The traditional evening of entertainment, celebration and camaraderie was sadly missed. However, as an innovative alternative, all AGM participants received a Snack Box in the mail the week prior to the event — what a thoughtful alternative!!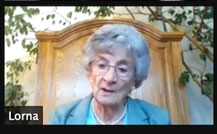 The meeting saw our own Lorna McIlroy once again elected as president.  It certainly has been a challenging term with AIMCo assuming the responsibility for pension investments, COVID-19, as well as ARTA's transition to self-management.  The membership is grateful that with all of this Lorna has been willing to serve another term.  In addition, Joan Godbout serves on ARTA's Strategic Planning and Advocacy Committee (SPAC).
We remain thankful of Daniel Mulloy and the ARTA staff for having made ARTA's AGM appear seamless; they worked hard to make it so.
As for NWARTA, the nine executive members also meet via Zoom.  Our goal remains – serving and uniting the northwestern members "to ensure a healthy, active, engaged and vibrant lifestyle after retirement."  The Executive members look forward to providing alternatives for wellness activities, the St Nicholas Luncheon and the spring 2021 New Frontiers Retirees' Conference.  Details will be coming via your email, the NWARTA website events announcements and Facebook.