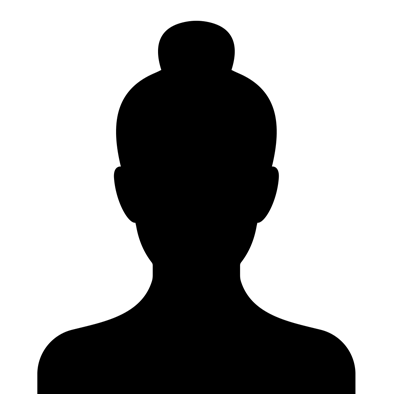 Read Bio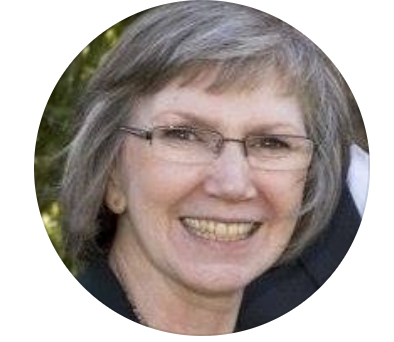 Jeanette Borstad
Secretary
Read Bio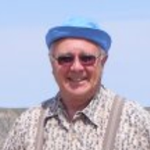 Read Bio
During COVID, Cliff has remained "active and engaged" pursuing his passion.  He is a performer at heart and has worked with community and NWARTA members in founding the Seniors Reading Theatre Grande Prairie.
Initially, the project was seniors entertaining seniors but like any endeavour, it has grown to include seniors entertaining in the community.  Several members performed in the Heritage Village Folktales Tour at the Grande Prairie Museum in mid-October 2020.  Themed "Experience the chills of the past", tales based in truth, with perhaps elements of fiction, were told in the spooky darkness of the Museum Village.
The cold was a discomfort for those who did not dress for the event, but that was not the case for Cliff who dawned a full-length buffalo coat.  If I remember correctly, he said it weighed 40 pounds.  While the picture is not the greatest (even with the flash), Cliff is pictured here reading in the Hudson's Bay Trading Store (of course wearing a mask). On this evening, his performing/reading partner was his daughter Sandra.
Another project for Seniors Reading Theatre is retelling the stories recorded in Grande Prairie archivist, Mary Nutting's, A Grande Education: 100 Schools in the County of Grande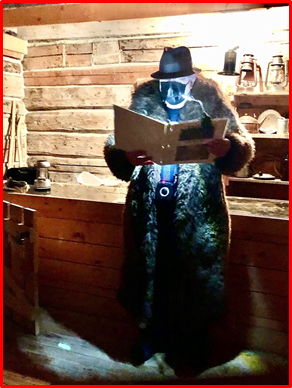 Prairie,1910-1960. The Readers are recognizing and honouring Mrs Nutting's "contributions to preserving local history" by re-telling the stories of some of these 100 schools.  They have videotaped these presentations and they are being edited for public viewing.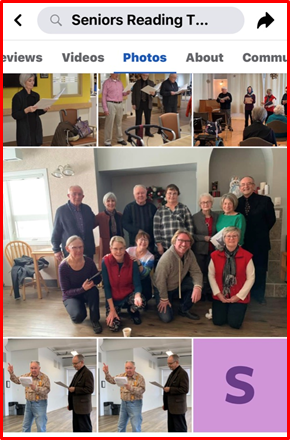 Bethe Goldie, both a Reader and a NWARTA member, says they could use more help in this project and welcomes interested individuals who may be willing to help to visit the Seniors Reading Theatre Facebook page.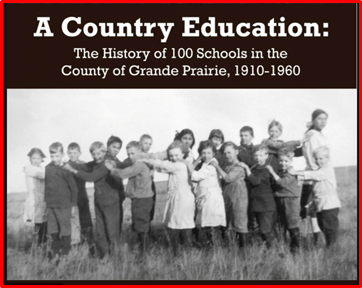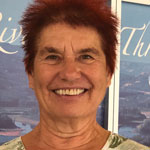 Read Bio
Looking back at the past 16 years of Maxine's retirement has made her a true believer in the saying "time flies when you're having fun". One project that Maxine had saved for retirement was to trace her Dad's Ukrainian roots using a small collection of papers, names, dates, and relationships with relatives. With retirement finally there, she had no idea of where or how to get started as the information had never been compiled or organized.
Her first step was joining the Grande Prairie Alberta Genealogical Society. After taking a beginner genealogy course and rubbing shoulders with the cumulative experiences of the like-minded members, she had the experience she needed. Volunteers gave her one-on-one assistance in reading and interpreting old Latin and Slavic documents, where Maxine found clues about her family's history.
Later she joined the East European Genealogy Society from Winnipeg. Brian Lenius, a founding member, had published a genealogical gazetteer, containing information on how documents and records were written and organized under the old country system and even old maps of ancestral villages. This invaluable publication kept her focused on the correct path and guided her in many areas throughout her search. Other volunteers from this organization translated old letters unlocking family information that relatives had collected.
Finally, a few years later, she felt that she had achieved a level in her research that allowed her to start thinking of booking a trip to retrace the steps of her Ukrainian ancestors. In September 2016, a trip to her ancestral villages in Poland and Ukraine was marked in the calendar. With a lot of expertise, pre-planning, and collaboration with Brian Lenius and Lisa Haji Abbasi, both from the East European Genealogical Society, they began their month-long adventure.
Their flight landed in Rzeszow, Poland where they met their Polish driver and interpreter. With a GPS and detailed cadastral map of Maxine's paternal Grandfather's village, that Brian had customized, they drove through southeast Poland to the exact location.
From both sides of the road, they could only see large tracts of reforested trees, but they had a feeling that they were in the right spot. They set out with a map in hand down a small trail into the forest and to their relief, they found evidence that the little village of Tomsy once existed there. Brian explained that historically when borders were adjusted after WWII, some small villages were destroyed as families were relocated. It was nevertheless a special moment for Maxine to walk on this old family ground.
Brian also helped them sort through old church and village records in the Archives of Przemysl, Poland and later in L'viv and Ternopil, Ukraine where they successfully located additional family history, that was unavailable online.
Once in Ukraine, they were immersed in the traditional culture. Maria, their new driver and interpreter, met them at the border of her century-old home and farm in the village of Didyliv, just outside of L'viv. There they experienced life much like their ancestors', eating the food that was largely grown and prepared locally, and observing the hard manual labour of villagers gathering harvests from their strip farms nearby, providing self-sufficiency that was impressive to see.
Maria skillfully drove them on old highways full of water-filled holes, some half the size of her mid-sized car, towards Maxine's paternal Grandmother's village near Sokal. Noticeably to them was the abundance of oversized deciduous trees planted all along the fields and highways. A puzzling sight as they drove past, was people hitting the tree branches with long poles. To their surprise, these people were harvesting walnuts, a common fall activity, from the plentiful trees.
Thanks once again to Brian's mapping expertise, they located a home and garden property in the village of Perwiatycze that they believed to be Maxine's Grandmother's birthplace. She will always remember this surreal and special moment as they took photos in the rain.
Now sitting back at home in her recliner, Maxine is amazed that her retirement hobby of researching family history could culminate into such a memorable experience of visiting the birthplace of her grandparents and the land of her ancestors!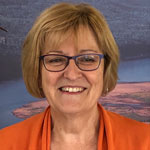 Joan Godbout
Past President
Read Bio
For Joan, the passage into retirement did not require a great adjustment compared to what she had been led to believe. While being an educator had been her career of choice, she has a great number of other interests and activities that easily fill her days. Eastlink classes and group/volunteer activities quickly became part of the routine as did home renovations and re-landscaping. Probably the most exciting part of this passage has been the opportunity for Joan to tackle some items off of her travel bucket list.
Australia had not been on the list, but when the opportunity presented itself, she just couldn't say no. So retirement started with a bang — an incredible trip from Grande Prairie's summer to Melbourne's winter (thankfully no snow and only rain) and eventually to the warmer weather of the Gold Coast and the Great Barrier Reef where she sunned on the beach. To Joan, the varied animal life and landscapes were the most enjoyable and exciting part!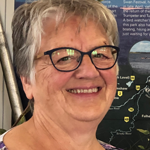 Read Bio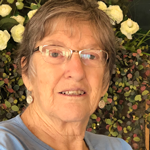 Read Bio
After a satisfying career in the classroom and on the sub list, I moved into retirement.  I have focused on all things fibre since then: knitting, sewing, kilt making and theatrical costumes.  The most memorable productions that I have been associated with are: Oklahoma, Les Misérables, Momma Mia and The Grapes of Wrath.  I also dabble in genealogy, always on the hunt for my elusive ancestors.